Puglia - Bike Experience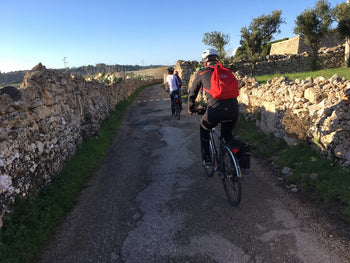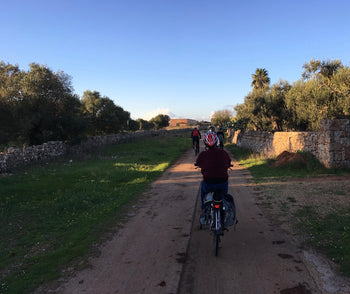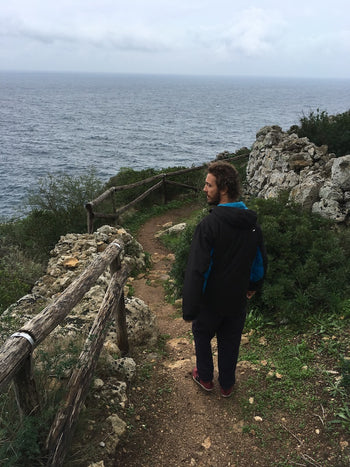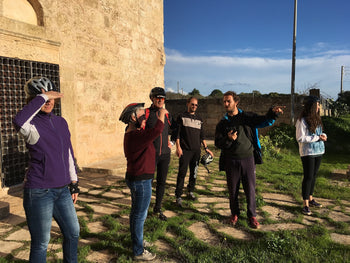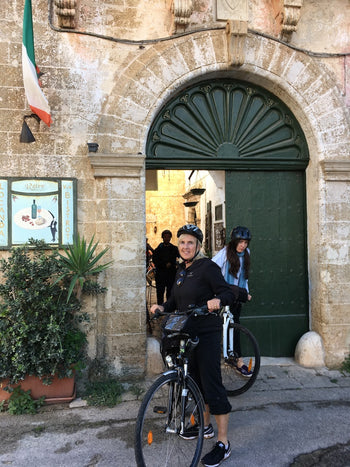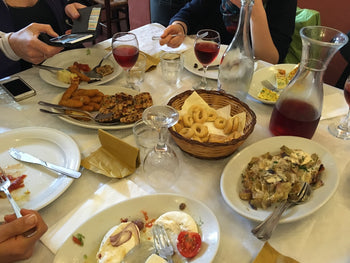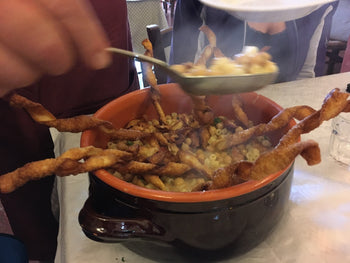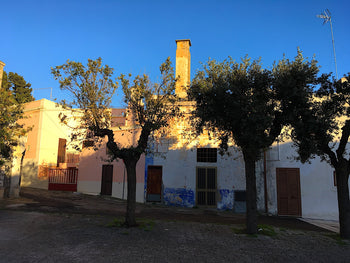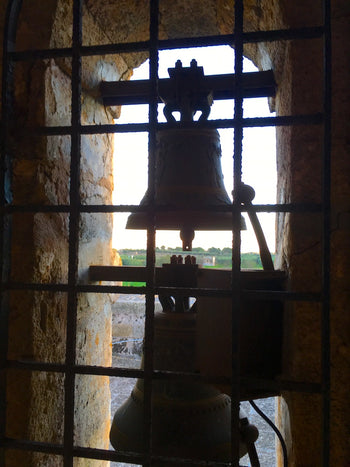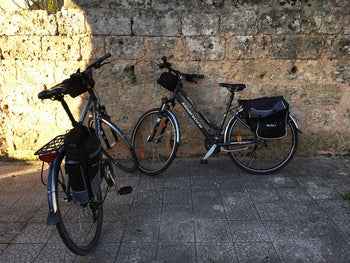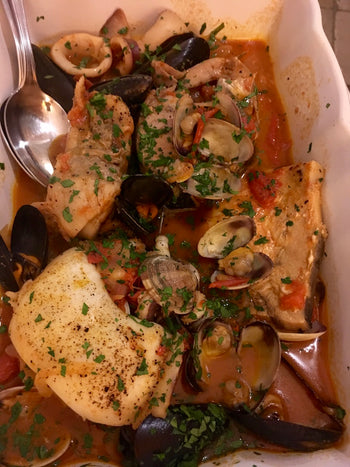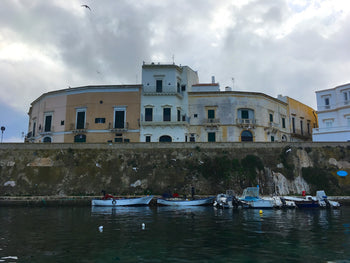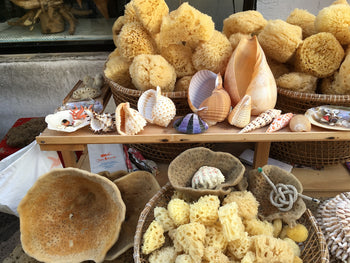 from 200.00 EUR / person
BIKE EXCURSIONS

Cycling full day or half day from:

Lecce

Otranto

Gallipoli

Santa Maria di Leuca

Zollino (Grecìa Salentina)

Bicycles are provided.

 

Each excursion reaches sites of historical, natural and food and wine interest. We pedal along almost exclusively secondary roads and cycling routes, away from vehicular traffic. Routes are chosen to allow you to travel safely and enjoy the scenery.

 

The distances covered are suitable for everyone, even the less fit: we travel at a slow, relaxing pace, according to the needs and wishes of the group. Our (half day) excursions are particularly suitable for families: older children can have their own bike, while little ones can travel in a child seat fitted on the back of their parent's bicycle or that of one of our guides.

 

All our bike tours include:

Bicycle rental and safety equipment (helmets, bags, pouches, repair kit);

Map of the route;

Tour guide, (written in Italian, English, Spanish, French, German or Portuguese)

Entrance fees to museums and sites of historical and archaeological interest (where applicable);

A tasting of typical products / cheese / wine (where provided);

Insurance RC

We also offer the possibility of touring in 'self guided' mode with GPS.

We can also arrange, on request, transfers to and from the departure point.

 

 

 

 

Tour 1 - Food and Wine - Bike & cooking (bicycle excursion + cooking class)

 

DEPARTURE POINT: Gallipoli old town – DURATION: full day

TRAVEL DISTANCE: approximately 30 km – DIFFICULTY: easy

 

THE ROUTE

Food and Wine cycling tour including cooking class. It starts in the morning from the village of Gallipoli, a fishing town that is located in southern Puglia, overlooking the Ionian Sea. In a few kilometers we will reach Alezio (ancient Messapian city, where there is an interesting museum on pre-Roman civilizations) and then Sannicola. Cycling on secondary country roads, among olive trees and dry stone walls, you reach "Tenuta mamma Anna" - a family-run "agritourism" where cooking class will take place. The products are harvested directly from the family garden and then move on to the preparation: "pitta di patate" (a kind of potato gateau, with a stuffing of tomatoes, olives, capers, onion and tuna), "pittule" (some fried dough balls), filled with tomatoes and capers, or empty to taste with honey) and hand-made orecchiette (a typical local pasta, shaped like an ear, prepared with fingers and a knife), the "pasticciotto cake" (a cake made with shortcrust pastry, filled with chantilly cream); These are some of the dishes that will be prepared. Following family lunch. On the way back we have the possibility to visit the baroque city of Galatone and the "radio museum" of Tuglie. The route is easy and suitable for everyone, possibility of electric bike.

Tour 2 - Lecce and surroundings

 LECCE AND ITS NATURAL ENVIRONMENT (bicycle excursion)

o DEPARTURE POINT: Lecce old town – DURATION: full day

o TRAVEL DISTANCE: approximately 50 km – DIFFICULTY: average/easy

THE ROUTE

We start out from the old town of Lecce to reach the village of Acaya, the medieval fortified town, where we'll admire the impressive castle, the boundary walls and the urban plan of the old town that has been left unchanged over time.

Then we head to the Cesine Natural Reserve, a wetland that is home to many species of plants and aquatic birds and today is a WWF protected area.

Break on the beach for a refreshing bathe if the weather allows.

On the way back through Strudà we will visit an olive grove where some trees are a thousand years old.

On our return we will stop for a tasting of products typical of Lecce. (It's also possibile to organize  with a diversion of approximately 6 km  a cheese tasting along the way.)

 

Tour 3 - LECCE AND ITS MASSERIE (bicycle excursion)

o DEPARTURE POINT: Lecce old town – DURATION: full day

o TRAVEL DISTANCE: approximately 40 km – DIFFICULTY: average/easy

THE ROUTE

Riding on unpaved roads among hundreds-of-years-old olive trees, we cross several fortified farms of the sixteenth/eighteenth century, which were once both places of agricultural production and important defense points against Turkish attacks.

We will also visit important sites of worship such as the Church of St. Mary of Aurio, dating from the twelfth century, and the beautiful Abbey of St. Mary in Cerrate, dating back to the Byzantine era, where there is also an interesting museum of folk traditions. Sun permitting, we won't miss the chance to take a break on the beach. On the way back we'll cycle through the Rauccio Natural Park.

On our return we will stop for a tasting of products typical of Lecce.

 

Tour 4 - OTRANTO THE BALCONY OF THE EAST (bicycle excursion)

o DEPARTURE: Alfonsina Gateway, Otranto – DURATION: full day

o TRAVEL DISTANCE: approximately 35 km – DIFFICULTY: average/easy

THE ROUTE

The inland of Otranto is probably the best preserved area of Salento. Going up the Idro Valley, we will visit an ancient Byzantine crypt, and then stop at the Constantine Foundation where they practise the art of traditional weaving.

We will then cross the 'megalithic garden' of Giurdignano, dotted with dolmen and menhir.

For lunch, a tasting at one of the best bakeries of the province in Specchia Gallone.

In the early afternoon we will reach Porto Badisco, with its calm, sheltered beach.

Then we'll return to Otranto around sunset, along one of the most beautiful stretches of the coast, visiting the lighthouse of Punta Palascìa and the stunning Bauxite Lake.

 
from 200.00 EUR

/ person
---
---
Related Items