La Pietra beautiful villa near Cortona sleeps 11 - 13; prices date dependant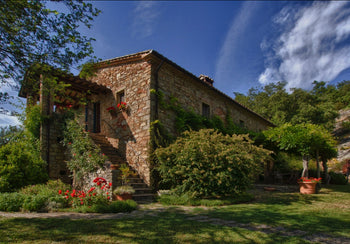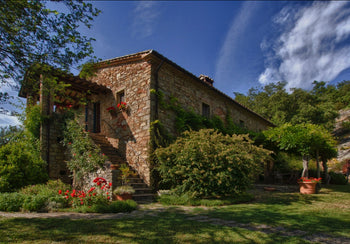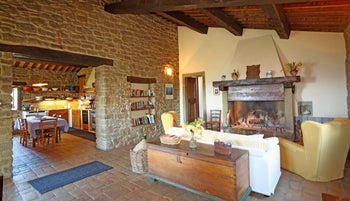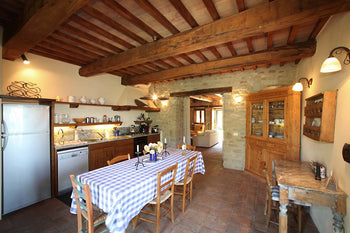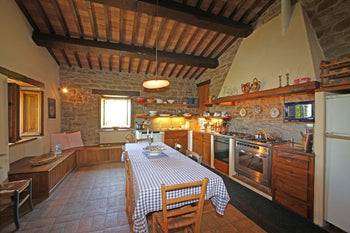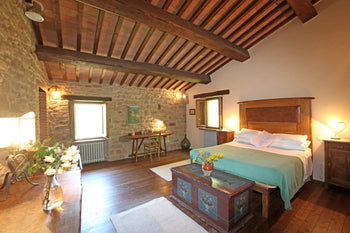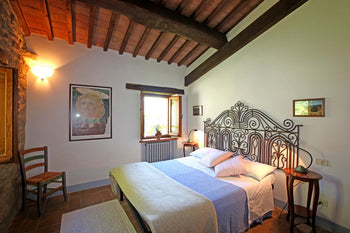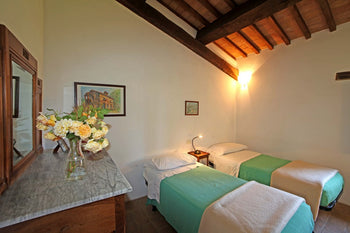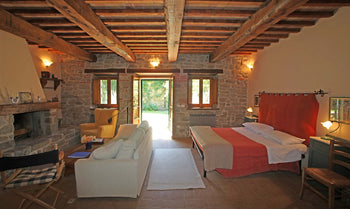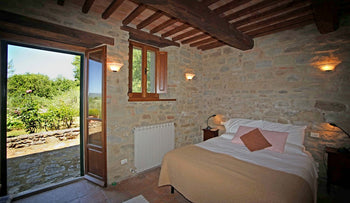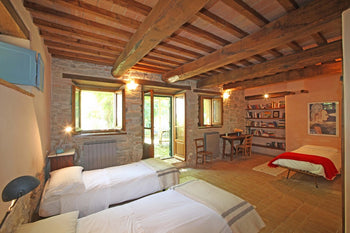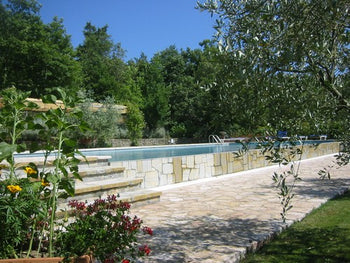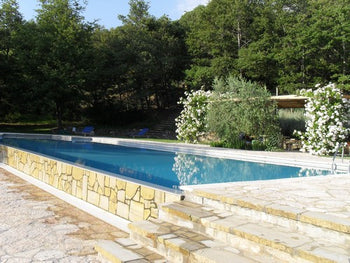 from 855.00 EUR
This tuscan Villa, a classic stone farmhouse on the Tuscany Umbria border, a 40 minute drive from Cortona, was carefully restored in the early nineties using the old materials - stone, terra cotta, and massive chestnut beams - merging gracefully with the spectacular landscape that surrounds it.


This is one of my favourite restored farmhouses in Tuscany - in fact it was this one that inspired me to start this business many years ago.. a true "Under the Tuscan Sun" experience. A little removed from the rush of reality, on the Tuscany/Umbria border...it allows for a dream vacation in Italy.

This classically restored stone farmhouse is situated on a high hillside with panoramic views of Umbria and eastern Tuscany, including the tiny hill town of Preggio, and the ruins of the Pierle castle in a landscape dotted with small farms and ancient olive groves.

Summary of features:

Accommodation: 6 double bedrooms / 4 baths (sleeps 11-13) or 5 double bedrooms / 4 baths (sleeps 11) or 4 bedrooms / 4 bathrooms (sleeps 8) or 3 bedrooms

Spacious fully equipped country kitchens with modern appliances, including dishwasher, on both floors

Broadband internet access is available and a computer is provided on the upper floor for guest use (small fee for unlimited use)

Guests can also connect to the internet via their own laptop or phone

Central heating and washer and dryer on each floor

Double-glazed windows and screens for year round use and comfort

Two raised-hearth stone fireplaces

Furnished with antiques and pieces built by local craftsmen using old designs

Attractive linens and towels

Good mattresses and reading lights

Terraces and gardens, suitable for outdoor dining

Personalized Italian cooking lessons and/or serving at home, available upon request

Elegant 18 meter by 7 meter infinity swimming pool

NOTE: a car is required


Guest comment:

"And while we were using our rental home as a base for travels within the region, we also took the opportunity to go nowhere and do nothing. La Pietra lent itself perfectly to such nonpursuits."




To provide guests with maximum flexibility in their accommodations, the house has been divided into two independent floors, each with country kitchen opening on to terraces for lounging and outdoor dining. On the upper floor, the house has three double bedrooms and two baths. It includes a cook's delight country kitchen with long oak dining table, fashioned from the antique beams of the original house.

The dramatic, high ceilinged living room has a raised hearth open fireplace, suitable for philosophical gazing and culinary pleasures. The upstairs living room leads out to a covered loggia, with some of the best views in central Italy; a place to read, to eat, to sip wine, and to watch the weather and light change throughout the day.

The ground floor consists of a second country kitchen (ideal for summer cooking or cooking classes), a combination living room/master bedroom suite with open fireplace, two additional double bedrooms and two bathrooms. Outdoor terraces on three sides expand the living space of the house, providing different vantage points from which to enjoy the view.

Close-in herb gardens for your use make cooking at home a special experience.


The kitchens in the houses are set up for serious cooking, attracting gourmet cooks and gourmet eaters from all over.

One of the best ways to experience the local cuisine is to have Elizabetta , a woman with truly indepth experience of local food and food sources ( plan a visit with her to find local food sources everything from foraging to hand made chocolates) come to the house to prepare a custom meal, including such dishes as suckling pig roasted slowly in the old outdoor brick oven, grilled lamb spitted over the large open fireplaces, or handmade pastas, bread and fresh ricotta made from the milk of his family's sheep.She brings brings the textures, flavors and colors of central Italy to the kitchen of your vacation home. (either catered or to run a cooking class for you)

La Pietra can be rented separately or in conjunction with CASA CARINA and CASA La Quercia

The positioning of La Pietra and its front door and its terraces allows almost total privacy, though the driveway and entrance into the garden is shared between these two properties. Some fifteen metres to the side of La Pietra lies Casa Carina ( see listing) a delightful small romantic hideaway which sleeps two people that can be rented independently or together with La Pietra.

Please note re Driveway: Please note also that the approach to La Pietra is by way of an unpaved driveway, approx. 2 km, it is steep in parts but does not present a problem if driven slowly; It is regularly maintained and can take passenger vehicles of all sizes; Once you have done it a few times you may wonder why you gave it a 2nd thought.

Lovely views of the surrounding countryside.

Utilities, Housekeeping and Additional Services

All linens, towels and utilities, are included in the price. We provide a full house cleaning and linen change every 6 or 7 days. Tenants have free access to all linen and towel closets, washing machines and dryers, and are responsible for changing their own towels.

Price List for Additional Services

Broadband internet service - flat fee for telephone and broadband internet service - unlimited use per week at €20 per house

All other utilities free of charge summer and winter, including central heating and wood for fireplaces

Additional cleaning requested by the client is charged at a rate of €75 per floor

Laundry is charged at the rate of €15 per load, if tenants wish for our cleaning people to do their laundry and towels

Shopping for arrival supply of groceries - €50 plus the cost of the groceries, see Concierge;


Location: nearest village - Mercatele - 10 km about 15 min drive; Cortona - 24km about 40 min. Umbertide - 17 km, 25 min drive


The picturesque Niccone Valley is the perfect, central point from which to explore the hill towns of both Umbria and Tuscany. Located roughly midway between Rome and Florence, just north of Lake Trasimeno, it's an easy drive to the historic cities of Cortona, Gubbio, Perugia, Assisi, Deruta, Montefalco, Spoleto, Spello, Todi, Montepulciano, Pienza, Siena, Umbertide, Citta di Castello, Sansepolcro and others.


For an up-to-the-minute calendar of events, log onto umbriatourism.it and click on Events.
Approx. Location: Full details prior to arrival
from 855.00 EUR
---
---
Related Items