Eat better at Rome airport - EATALY opens at FCO
"Eat better, fly better" is the Eataly motto at Fiumicino airport.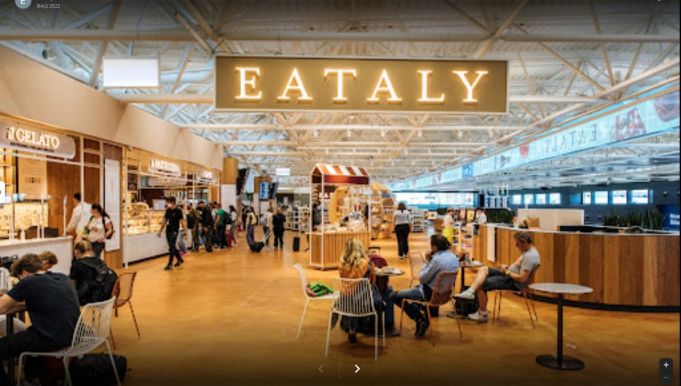 Eataly, the chain of high-quality Made in Italy food outlets, launches in the newly-opened Boarding Area A at Rome's Leonardo da Vinci airport, better known as Fiumicino.
The arrival of Eataly at Fiumicino marks the first time the celebrated food emporium has opened in an airport.
The 2,000-sqm outlet, which has seating for 300 people, will be run in collaboration with Autogrill, the Italian-based, multinational catering company.
"The new Eataly, with the motto "eat better, fly better", will bring the best of our Made in Italy to a place of huge traffic of Italians and foreigners to whom we will offer the experience of Italian food and wine culture", said Eataly CEO Nicola Farinetti.
The Eataly at Fiumicino offers freshly-made pizza, a range of pasta, fried foods, salads, soups, panini and gelato, while its Vini e Aperitivi bar offers wine, craft beer and cocktails, accompanied by appetisers.

There is also a retail section where travellers can purchase Made in Italy food and wine to take with them on their journey.

Fiumicino recently opened the 'Molo A' boarding area, which has 23 gates and covers 37,000 sqm, after an investment of €400 million from Rome airport management company Aeroporti di Roma (AdR).

Photo La Repubblica
---
Also in CVV lets you know
Love Italy? Love wine tasting? Consider spending some time in the wine area of Piedmont - tasting Barolo and Barbaresco amidst the vineyards and medieval villages and castles.  Whether you are a wine newbie or a sommelier we work with some wonderful local wineries and experts, creating some memorable experiences for you.  Picnic in the vineyards? flights of wine? organic wineries? just ask.
All passengers arriving in Italy are required to fill out an EU Digital Passenger Locator Form.
(Click here to open)
From August 6th, proof of at least one dose of vaccine, recovery from Covid in the last 6 months, or a negative result from a test taken within 48 hours will be required for people aged 12 and above to dine indoors in restaurants, enter museums and archaeological sites, and access other indoor event spaces.
Visitors from the US, UK, Canada, Japan, and Israel will be able to show the documents issued by their respective authorities in lieu of the Italian Green Pass. The document must both state the identity of the holder and the date and type of vaccine administered. An ID document will also be required to verify the holder's identity.
Certificates will be accepted in one of the following four languages: English, Italian, French, or Spanish. Any certificate not in one of these must be accompanied by a certified translation.